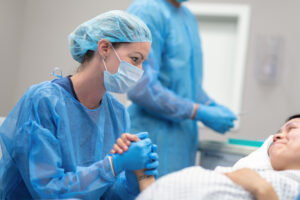 Work Package 3: Case-studies of eight NHS Trusts in England

Purpose
The work package three (WP3) element of the ASPIRE study is focused on ascertaining optimal maternity and neonatal care during a pandemic. Optimal care is defined as care that is safe and personalised. Through identifying 'best practice' a range of resources will be developed, designed to support hospital Trusts during future pandemic and emergency situations.
What we will ask
What organisational changes did NHS Trusts make in response to the COVID-19 pandemic?
How and what did NHS Trusts communicate regarding the changes made during the pandemic, to both service users and staff?
What are the views and experiences of staff across all levels of the maternity and neonatal services in relation to the organisational response during the pandemic?
What are the views and experiences of service users in relation to the organisational response to the pandemic?
What are the maternal and neonatal outcomes as reported by organisations during the pandemic?
How do the findings from above compare across the different NHS Trust sites?
What can be considered 'best practice' for optimal maternity and neonatal care during pandemic and emergency situations?
What we will do
The study will select 8 NHS Trust sites from England, as case-study sites. At each site, a wide range of data will be collected between October 2020 and March 2021 that includes:
Documentation; internal documents such as meeting minutes, guidelines or policies and public information such as website or social media communications.
Interviews with senior staff to explore how staffing levels and available resources changed over time, and how this affected decision making.
Interviews with staff (midwives, obstetricians, neonatologists, neonatal nurses, anaesthetists, doulas, Maternity Voices Partnership leads, paramedics etc.) to examine issues, problems, and solutions experienced during the pandemic.
Interviews with service users to capture how expectant/new mothers and partners view their experience of maternity care during the pandemic to help understand strategies and mechanisms that can optimise health and wellbeing in crisis situations.
Routine clinical data regarding neonatal and maternal outcomes such as ante and postnatal care uptake, labour and birth processes, mortality, morbidity, and wellbeing measures, and COVID-19 infection rates.
Using a case study approach, data from each site will be examined both individually and across sites to reveal patterns of organisational responses and determine 'best practice' across the maternity and neonatal care system.
How you can help
If you are a health professional or research manager interested in being a site please contact: CKingdon@uclan.ac.uk
If you are a woman who has had a baby you can access a survey here and can leave contact details if you are happy to be contacted for further research.
We would like to speak with women who have had a baby (and their partners, if they wish) during the COVID-19 pandemic with Lancashire Teaching Hospitals NHS Foundation Trust and Liverpool Women's NHS Foundation Trust. This includes births in hospital, birth centres or at home. Please contact CFeeley@uclan.ac.uk or NCrossland@uclan.ac.uk